Legal and Scientific Experience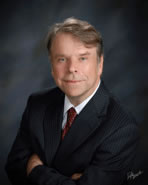 My experience with Intellectual Property began in the 1990's while I was a Principal Research Scientist at Storz Ophthalmic Company in Saint Louis. My research, which was aimed at preventing proliferative diseases of the eye, resulted in eight patents that were issued for surgical instruments, a targeted cytotoxin, an intraocular lens, and a drug delivery device. I assisted with the prosecution of these applications and found the experience both rewarding and intellectually stimulating. From that time I learned the importance of carefully documenting results and how unpublished data may be used to overcome rejections.
I attended Saint Louis University Law School in 2002 to pursue a practice centered on Intellectual Property. Through an internship and SLU's Technology Transfer Office, I prepared patent applications for the medical school facility. After graduating in 2005 I continued to do patent work for the university and began establishing a solo practice.
At the start of 2007, I joined the law firm of Polsinelli Shalton Flanigan & Suelthaus, where I continued my previous work and further developed my patent drafting and prosecution skills. I worked with a variety of matters and clients including universities and a major pharmaceutical company, where I worked in-house on a part time basis. Serving as a member of their legal department, I interfaced with Research & Development and a multi-national law firm to implement a global patent portfolio.
In June of 2008, I returned to solo practice where I continued the work I had been doing for my University and Pharmaceutical clients.
Research & Development
After graduating from Northeastern University with a BS in Biology I went to work in a research laboratory at Harvard Medical school in the field of angiogenesis. I became interested in the extracellular matrix (ECM) and how it is modified by cancer cells during angiogenesis and metastasis. I attended the University of Vermont to pursue a PhD in cell biology and conducted research in connective tissue ECM (cartilage proteoglycans). After receiving my Ph.D. I held research positions at Yale, Washington University, and Saint Louis University Schools of Medicine. In these positions I conducted research in Dermatology (keratinocyte proteoglycans), Hematology (platelet receptors), and Ophthalmology (retinal proteoglycans). I joined Storz Ophthalmics (now Bausch & Lomb) to conduct applied research on the cornea (refractive correction), lens (prevention of secondary cataracts), and retina (prevention of proliferative vitreoretinopathy). I have also consulted in Neurology on the preparation of umbilical cord stem cells for transplantation into a stroke model in rats.